Dry disconnect couplings are designed to prevent the loss of product when disconnecting hose lines and protecting the operator and the environment.
To make the best choice of coupling, you need to know your application by way of the following four primary areas:
The media (and any different states it may have when flowing through the coupling)
Size requirements (relating to nominal bore sizes of related pipe systems or the surroundings)
Operating conditions (for the coupling and its environment)
Coupling functionality (by way of type of valving, allowable spillage, interchangeability or other needs)
We offer 4 main types of Drybeak Couplings, Drylink, Drymate, Mann-tek DD, Snaptite. Please see below for each of the particular options:
Dry Link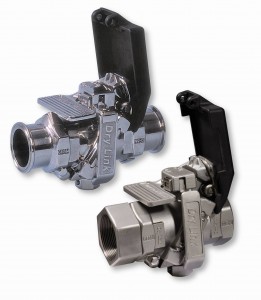 "The ultimate dry disconnect designed for critical applications where any spillage must be avoided. Patented valve design gives a remarkably lightweight, low maintenance unit, while
a mechanical interlock prevents accidental openings. With very low pressure drop, ideal for fluid transfer where the prevention of spillage is all important."
Chemicals can be inexpensive until they leak/drip and then cost thousands to clean up!
You can avoid this expense and associated legal actions – just use Dry Link.
Dry Link uses a unique drip-free design to trap chemicals before they leak onto the floor. Protect your workforce, the environment and your budget.
Dry Link products are also lightweight for ease of handling and use fewer internal components for maximum flow.
CleanBreak Dry Disconnect
They are in use in installations all over the world, used widely in the agriculture, chemical and petroleum industries, as well as pharmaceutical, biotechnology and fodd industries.
The flow shut-off mechanism in our dry break couplings automatically seals off the hose when disconnected, making them perfect for applications where loss of fluid is not an option. These dry break fittings excel where environmental safety, employee safety or cleanliness is a major concern, or where it would be expensive to lose or clean-up fluid if spilt.
Size
The couplings are available in sizes from 3/4" (DN 20) to 4" (DN 100) with BSP, NPT and S60x6 threads. Other threads are available on request. The tank units are also available in flanged connections (DIN, ASA, TW, TTMA, EN 1092-1:2001).
Materials
Aluminium, Brass/Gunmetal, Stainless Steel, Hastelloy C and PEEK.
Seals
FPM (Viton®), EPDM, Chemraz®, NBR (Nitrile) Kalrez®.
Working Pressure
PN10 – PN25
Banjo Dry-Mate


User Friendly
Operating Dry-Mate is simple.
The handles interlock making it easy to identify which handle opens or closes first. No guessing is involved! The two Dry-Mate halves couple together with cam levers for positive engagement.
Design
Dry-Mate is designed for safe and easy spill free connections. The "double ball" design allows maximum flow, while the cam lever style of connection is the most recognised coupling connector.
Features
Available in Stainless Steel and Polypropylene
Unrestricted flow
Minimal fluid spillage
Easy to use
Economical
Reduces risk of exposure
Wide range of chemical resistance*
Cannot be uncoupled in open position
*Not for low flash point liquids
Dry-Mate uses a ball valve design giving an unrestricted path for fluid flow. The handles on each half interlock make it easy to identify which handle opens or closes first.
The cam lever style of connection is the most recognised type of connection available. This offers an easy, quick and positive connection of the coupling halves.
For safety the Dry-Mate has a number of features. Both handles have interlock buttons that prevent the ball valves from opening when the halves are separated. The Female part also has a locking yoke that locks the cam levers once the valve handle has been rotated to the open position.
The gasket, which seals between the two halves, is mechanically held in place to ensure that it remains located when the halves are disconnected.
71 Series
Dry Break, Non-Spill Couplings
Flush face, dry break, general purpose, hydraulic couplings
The 71 Series couplings are designed for today's applications including special features for modern needs – dry break, push-to-connect, high pressure, rugged and versatile. Extra large flow chambers and Snap-Tite's exclusive valve design permit exceptional flow while maintaining low pressure drop.
Snap-Tite's 71 Series quick disconnect product line offers customers an economical flush face, dry break coupling capable of operating at pressures to 10,000 PSI (690 bar). Special seals are available to handle troublesome media as well as optional Autoclave Engineers cone and threaded end fittings for high pressure applications. The 71 Series is ideal for test stands and other hydraulic and chemical applications where endurance and cleanliness are requirements.