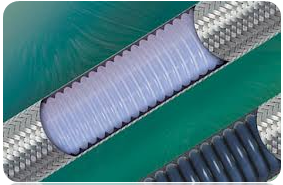 PTFE Hose
Lantech Solutions expert team specialises in the production, assembly and distribution of PTFE flexible hoses to meet the requirements of vacuum service, pressure and stringent temperature, which are found in dairy products, food, beverage petrochemical, pharmaceutical and medical applications.
Lantech Solutions PTFE hose and assemblies provide distinctive qualities, such as high temperature performance (up to 260°C, 500°F), easy clean surface, frictionless and excellent chemical resistance.
These qualities establish the nature of application areas wherein PTFE hoses can offer the most excellent hose product for the job.
Our range of PTFE include Smoothflow PTFE hose, Easy Crimp Convoluted Hose, Coreflow Convoluted Hose and Smooth Bore PTFE Hose. These hoses can be delivered as a complete hygienic assembly using either customer-specified or standard fittings, such as BSP fittings, camlocks, flanges and hygienic fittings to name just a few.